Top 7 Fitness Applications to Train at Home
It has never been easier to practice fitness. Thanks to his smartphone, you can now train for free in your living room, in your hotel room or outside. Beginner or expert sportsman, if you feel like it, draw your phone and download one of the 7 fitness applications that we have selected for you !
Do you like coaching ?
SWORKIT, the reference fitness application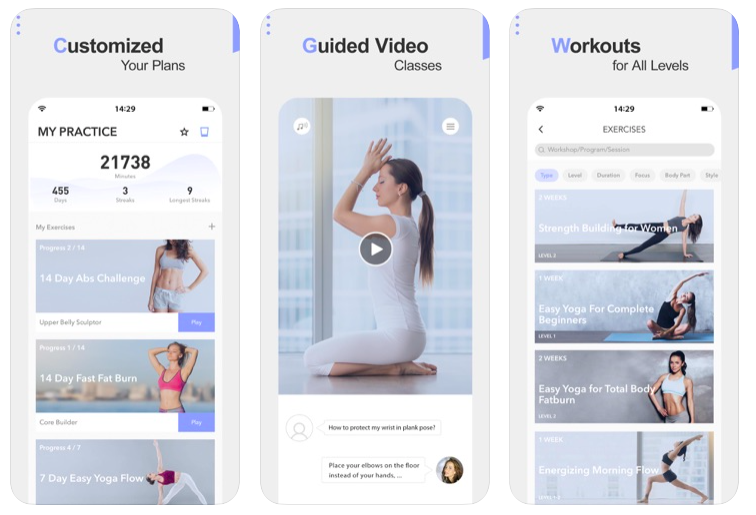 Sworkit is a fitness application for home sport. 4 types of training are offered: "Strength", "Cardio", "Yoga", and "Setly. The fitness application is available in other versions such as, and even for children.
With Sworkit you can perform variable duration workouts of 5 to 60 minutes depending on your availability and motivation. You can choose to do sessions to solicit your entire body (Full Body) or target only certain parts. For example, after clicking on, you can choose a Full Body drive or only the lower body, the abs, the back, etc. During each exercise, an animation is displayed on the screen to visually present the exercise to be performed. A countdown also indicates the effort time you have left. Practical, this application offers the possibility of going directly to the next exercise if it does not suit you or cannot be executed. Ultimately, you will be able to create your ideal training by selecting the exercises to be done from a wide choice yourself. At the end of your training, the application will indicate the number of calories spent. Finally, Sworkit offers a recall system to motivate you to train more regularly. With that, no more excuses !
Sworkit is available free of charge for 30 days on the App Store and on Google Play. Following this free trial period, different formulas are offered, starting at € 4.99 / month.
SEVEN, for the most in a hurry
The Seven application is among the best fitness applications. It is ideal if you want to play sports but have little time. The principle is simple: you open the application, you select a workout, and off you go for 7 minutes of fitness !
This application is based on the 7 minutes workout, a fitness program developed by a coach and the director of physiological exercises of the Institute of Human Performance in Orlando, for all people who are sorely short of time to train, who have to manage an intense pace of life, between professional responsibilities and family life.
Seven thus offers various training sessions adapted to your objectives: weight loss, fitness, bodybuilding … The advantage is that you can carry out all training without any equipment, at home or in the place of your choice. You have the option of choosing preconceived sessions or of creating your own workouts by choosing your exercises from a choice of more than 200 movements (version 7 Club only). The application also offers challenges and encourages you to stay motivated.
In its Premium version, this fitness application provides access to all the exercises and benefits from personal training programs as well as the assistance of a certified coach.
Seven is available free on the App Store and on Google Play. To benefit from the Premium version (7 Club), it will cost you $ 9.99 / month or $ 79.99 / year.
FIZZUP, the French reference application
Designed by a French team based in eastern France, Fizzup is a fitness application which offers personalized support to sculpt your body according to your own abilities and without equipment !
Thanks to FizzUp, train where and when you want. This fitness application offers real online coaching from your smartphone. Depending on your own abilities and objectives, FizzUp will offer you personalized training, on an average of twenty minutes, which you can follow directly at home without equipment. The app offers 15 levels, each comprising 6 at 21 sessions. The first level is free, then to be able to follow training at higher levels you will have to pay a subscription of € 19.99 / month (€ 9.99 if you subscribe to an annual formula).
FizzUp is available for Iphone and Android, on the App Store and Google Play.
To find out more: FizzUp: the ideal fitness application to get back in shape !
Freeletics, for confirmed athletes !
Freeletics is also among the best fitness applications that offers to transform your body in 12 weeks through personalized training. Based on high intensity training, it is aimed at already trained athletes.
In the same spirit as FizzUp, Freeletics offers to coach you through a personalized training program, based on exercises without bodyweight equipment. The peculiarity of this application is that it is based on HIIT, a training method which consists in carrying out exercises in fractionation to the maximum of its possibilities. For this reason, the use of Freeletics is not recommended for beginners.
This fitness application offers a free version and a paid version ("The Coach") in which you benefit from a personal digital trainer who will adapt your program according to your level, your goals and availability. Optionally, you can also benefit from nutritional advice. The "training" pack will cost you around 10 € / month, and the "training and nutrition" pack +/- 16 € / month.
Freeletics is available on the App Store and on Google Play.
To find out more: Freeletics: presentation and advice
REPCAM, a simple and innovative fitness app
RepCam is one of the best free fitness applications. The principle is original and motivating. You open the application, you select a workout, and your phone films you to automatically record the number of rehearsals.
Intuitive, the RepCam application, developed by a sports coach, will offer to share your short film (in the form of a gif) with your loved ones, on your social networks or on the facebook support group dedicated to the application. Seeing people around the world training, this will inevitably boost your motivation.
Unlike other fitness applications in the market, RepCam is completely free and you have an immediate visual return during your practice. The front camera of your iphone films your live drive and records your movements. Don't worry, only you can view this film. However, nothing prevents you from showing it to your sports coach to check your posture, to share it with a friend to challenge him, etc.
This application also has a "cat" section where you will frequently receive new fitness training. You burpees, squats, pumps and other mountain climbers.
RepCam is only available in English on the App Store.
Pocket Yoga is a paid application that allows you to practice yoga simply, wherever you are.
This application, available on Iphone and Android, offers nearly thirty Yoga sessions for all levels. Thanks to voice and visual instructions you will have access, in detail, the posture to be adopted as well as valuable advice to take full advantage of your sessions. If you are looking for an application to refocus on yourself, Yoga Pocket is ideal. As a reminder, yoga reduces your state of stress, improves your posture, better control your breathing or even gain flexibility.
Pocket Yoga is currently only available in English at a single price of € 3.49, on the App Store and on Google Play.
MyFitnessPal, to manage its diet from A to Z
How to speak fitness without mentioning food. Careful nutritional monitoring allows any sportsman, especially fitness practitioners, to achieve their goals more quickly. In addition to offering fitness exercises, the free MyFitnessPal application, available for Iphone and Android, offers you personalized nutritional follow-up.
Thanks to a simple and well-designed interface, you just have to enter the food consumed over your day and MyFitnessPal takes care of the rest. More than 6 million foods are listed in order to automatically calculate the number of calories ingested as well as the distribution of macronutrients (proteins, lipids, carbohydrates), and the fiber, sugar content… of your food. The application also allows you to scan bar codes in order to easily find your food in its database.
But that's not all, this application goes further ! When entering your measurements as well as your weight target, MyFitnessPal tells you if you are on the right track in terms of calories. Once the application is well in hand, it will only take you a few minutes a day to enter your data and build a specific food plan for you. You can then follow the evolution of your progress through different graphs.
As a fitness practitioner, you are bound to be concerned with your protein, lipid and carbohydrate intake. The application can therefore be used in the long term or occasionally for 1 to 2 weeks to verify that your recommended nutritional intake corresponds to reality.
MyFitnessPal is available free of charge on the App Store and on Google Play.
Do you prefer to be followed by a flesh and blood sports coach ?
Fitness applications have their limits and can never replace the accompaniment of a personal fitness coach. Whatever your objectives, we can offer you a tailor-made program and support you in the success of your objectives.