How to Start Your SEO with the Google Search Console?
Google Search Console – Whatever web project you are embarking on, you are creating a website to make it visible to as many people as possible. What could be more discouraging than investing precious time in creating quality content and finding that no one is consulting it ?
To publicize a website, you have to be there where the vast majority of Internet users start their exploration when they ask questions: in search engines. It is therefore essential to allow Internet users to easily find your content when they search Qwant, Google or Bing related to the theme of your online activities.
To increase traffic on a website, you must first succeed in attracting search engines and allow them to effectively list your content. This is called indexing. This step comes upstream of the referencing and is fundamental. Fortunately, it is possible to positively influence these mechanisms, thanks to optimization techniques (SEO, Search Engine Optimization).
This article provides the basis for optimising natural referencing and setting up traffic monitoring for a site created with WordPress. SEO is a profession in itself and to go further, we suggest that you contact a professional or read this guide, which was written by an SEO specialist from the agency. It discusses more broadly the good practices to be observed to improve the natural referencing of a website.
After following this article :
your site will be indexed by the main search engines,
you will be equipped with tools to improve the referencing of your site,
you will have implemented the solutions to analyze and monitor the traffic on your site.
Declare Your Site to Search Engines
Search engines are continuously exploring the web for new sites to index and may take a long time to find yours.
To speed up the referencing of your site, it is often possible to "declare" a site directly to cause its indexing, thanks to a tool specific to each search engine :
Link Your Site to Google's Search Console with Yoast SEO
Google is still the most common search engine, we will show you how to use its search console. Google Search Console (formerly called) allows you to check and optimize the indexing of your websites. This console will show you the keywords by which Internet users discover your site as well as possible errors that could affect its proper referencing.
To link your site to the Search Console, start by going to Google Search Console and add the URL of your website by clicking the Add Property button (e.g. https://www.winaak.com). We recommend that you add two properties per site, one at http and the other in https.
Then select HTML tag as the verification method to copy the identification code that is between the quotes (see point 3 on the image below).
Open the dashboard of your WordPress site to install and activate the Yoast SEO extension. To do this, click Extensions and then Add from the WordPress menu on the left. Then you just have to start a search with the keyword "Yoast SEO.
Once the extension is activated, click SEO at the bottom left of the WordPress menu. In general settings, go to the Tools for Webmasters tab and stick the identification code retrieved from Google's Search Console.
You can now return to the Search Console to validate your site :
Generate and Send a Website File to Google
A sitemap file makes it easy to tell search engines the pages of your site to explore. Thanks to Yoast SEO, you can create a sitemap file with a few clicks and add it to the Search Console.
To generate the sitemap file for your site, go to the General Settings of Yoast SEO and then under the Features tab, activate XML site plans. Then click on the small question mark on the right of this option and click See the XML site map to retrieve the URL address of the different sitemap files you will need then enter the Google Search Console :
Google will now immediately index the content you add to your site. Creating these files will also help other search engines to collect information from your site.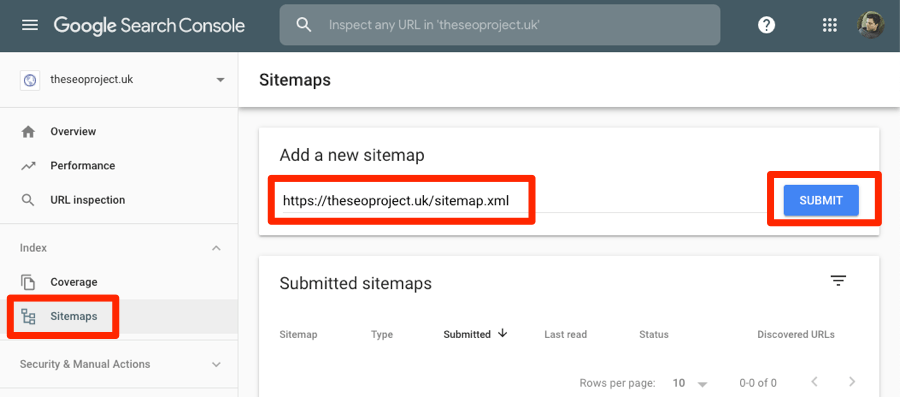 Follow and Analyze the Audience of Your Website
To improve the attractiveness of your site over time, it is important to identify and understand the traffic of visitors entering and leaving your site. Infomaniak automatically offers statistics for each of your sites which already allow you to follow information such as the number of monthly visitors, the origin of your visitors, the evolution of your audience per hour, the source of your traffic, the pages of your most visited site, etc. To track this data, simply connect to your Manager and go to the dashboard of your web hosting.
To go further: Matomo and Google Analytics
To go further in the analysis and monitoring of your audience, it is possible to connect tools such as Matomo (formerly Piwik) or Google Analytics. Although not free, it has the advantage of being linked to Adwords if you use this platform to advertise on Google.
To link your Google Analytics account to your site, log into Google Analytics using your Google account and then add your website to the Google interface.
We then recommend that you use the WordPress Google Analytics for WordPress by MonsterInsights extension to easily check your website. Once the extension is installed and activated, go to Insights settings and click the Authentic with a Google account button :
Choose the Google account previously used to enter your site in Google Analytics and allow the extension to communicate with Google. To do this, copy the code provided by the dialog box and then stick it in the MonsterInsight extension when you are invited to do so. Finally select the profile for your website and then save the changes.
It's over. Your website is connected to your Google Analytics account. However, you will have to wait a few days before observing the first data from visitors on your site.
Remember to go to an HTTPS site
Search engines and Internet browsers now favor sites secured by an SSL certificate. This is why we strongly encourage you to switch to HTTPS sites, not only for the safety of its users, but also to improve their referencing. If necessary, this article gives you all the information to pass your WordPress site in HTTPS.
Conclusion
Your site is now indexed in search engines and you can analyze and optimize its referencing using Infomaniak statistics or a third-party tool.
To go further, you can opt for installing Google Tag Manager, a "container" to be integrated on your site inside which it is possible to add events (backings) Precise analyzes (upstreaming of a page, filling of form, etc. ) as well as personalized triggers. The latter also makes it possible to add external solutions, all operated dynamically without the need to modify the code of your site in depth. To conclude, you could also imagine integrating Zapier into your Analytics account to create scenarios and automate certain tasks with third-party applications.
From this point, your needs and your creativity are practically your only limit !
Learn more